Many have enquired about a career in Pre-hospital Emergency Care. The Emergency Services is a rewarding field offering an incredible amount of job satisfaction and personal growth. However, it can be emotionally and physically challenging and the decision to enter the profession should not be taken lightly.
How to become a Paramedic in South Africa schools courses salary colleges
South Africa has a great need for skilled, qualified emergency care providers. The profession has grown enormously over the last 25 years. It can no longer be considered a job but rather a professional calling. A commitment to patient care, professional integrity and lifelong learning is vital to success in this career.
There are two routes to becoming a paramedic:
University Education:
Certain universities offer a four year Bachelor's degree in Emergency Care (BTech). Graduates of this programme are qualified as Advanced Life Support practitioners able to provide the highest level of pre-hospital emergency care available.
Entrance requirements and costs may vary according to the institution you apply to. The Health Professions Council of South Africa (HPCSA) governs the standards of all medical training in South Africa. Their website contains a list of all institutions accredited to run Emergency Care training.
Please contact the university of your choice for further information on costs and entrance requirements.
A two year National Certificate is also available, the Emergency Care Technician (ECT) course. This qualification is also offered by certain institutions and graduates will work under the indirect control of a BTech paramedic. We do not yet offer the ECT course. Please consult the list above for a suitable institution.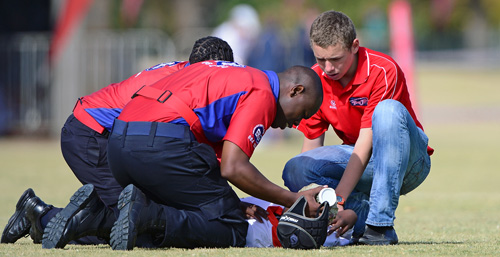 The other route to becoming a paramedic is to follow the short course route. There are three levels of qualification:
The short course education route is progressive. In other words, you need to complete the Basic Life Support level first and progress through each level. It is important to note that you cannot be exempted from any part of the above courses. Current HPCSA regulations do not allow candidates with other qualifications to challenge or obtain exemption from any part of the courses.
Currently, the HPCSA does not recognise foreign EMS qualifications. If you have a foreign EMS qualification, please contact the HPCSA regarding the possibility of your qualification being recognised. A matric certificate (or equivalent) is an HPCSA requirement for enrolment in any of the short courses.
Basic Ambulance Assistant
This seven week course is the entry-level requirement for a career in the emergency services.
ER24 does not offer the Basic Ambulance Assistant Course.
Ambulance Emergency Assistant
The AEA course is a four month course that builds on the foundation laid during the BAA course. The entrance requirements are:
Matric certificate
Current HPCSA registration as a BAA for at least SIX months AND
1000 documented, verifiable hours of patient care experience as a BAA.
ER24 is proud to offer three AEA courses per year. Candidates are required to pass an entrance exam which includes a theory assessment and a CPR and AED assessment. There are a limited number of places available and compliance with the minimum requirements does not guarantee a place on the course. The course is only run from our Academy in Johannesburg and is only presented on a full-time basis.
Please contact the Training Academy for details of the next course and pricing. Unfortunately we are not able to offer bursaries to candidates outside ER24.
Critical Care Assistant
The CCA course is an eleven month course that qualifies successful candidates as an Advanced Life Support paramedic. This intense, demanding course represents the highest level of short course training. The entrance requirements are:
Matric certificate
Current HPCSA registration as an AEA for at least ONE year AND
1000 documented, verifiable hours of patient care experience as an AEA.
Paramedic Schools/Colleges in South Africa
Action Training Academy: Basic Ambulance Assistant Course
Ambusave: Basic Ambulance Assistant Course, Ambulance Emergency Assistant
COJEMS Training Academy: Basic Ambulance Assistant Course, Ambulance Emergency Assistant course
Critical Care Academy: Basic Ambulance Assistant Course
De Vries Ambulance Academy: Basic Ambulance Assistant Course
Elihle College of Emergency Care: Basic Ambulance Assistant Course
ER 24: Ambulance Emergency Assistant, Basic Ambulance Assistant Course
Global Emergency Technologies: Basic Ambulance Assistant Course
IET Fire Rescue and EMS Academy: Basic Ambulance Assistant Course
Impact Emergency Technologies: Basic Ambulance Assistant Course
Kernbridge FET College: Basic Ambulance Assistant Course
Lebone College of Emergency Care (Pretoria): Ambulance Emergency Assistant Course, Critical Care Assistant, ECT
Netcare Education: Faculty of Emergency and Critical Care (FECC): Basic Ambulance Assistant Course, Ambulance Emergency Assistant, Critical Care Assistant
North West Private Ambulance Training College: Basic Ambulance Assistant Course
Rescu-Life Africa: Basic Ambulance Assistant Course
School for Military Health Training (Z): Basic Ambulance Assistant Course, Ambulance Emergency Assistant, Operational Emergency Care Orderly Course, ECT
University of Johannesburg: National Diploma: Emergency Medical Care, B Tech: Emergency Medical Care, 4-year Bachelor: Emergency Medical Care
SRQ Ambulance Training College: Basic Ambulance Assistant Course, Emergency Ambulance Assistance Course
Bokone Bophirima Ambulance Training College: Basic Ambulance Assistant Course
Mokgojwa College of Emergency Care (used to be Tshedimosetso Trauma Training Ambulance Academy): Basic Ambulance Assistant Course, Ambulance Emergency Assistant
Mankwe Ambulance Training Centre: Basic Ambulance Assistant Course, Ambulance Emergency Assistant
Northern Cape College of Emergency Care: Ambulance Emergency Assistant
LIMPOPO PROVINCE
Bokamoso Pre-Hospital Academy: Basic Ambulance Assistant Course
Ingozi Medicals: Basic Ambulance Assistant Course
Golden Hour Ambulance Academy: Basic Ambulance Assistant Course
Impact Emergency Technologies: Basic Ambulance Assistant Course
Free State College of Emergency Care: National Certificate: ECT
Leximed Training College: Basic Ambulance Assistant Course
Academy of Emergency Medical Training (AEMT): Basic Ambulance Assistant Course, Ambulance Emergency Assistant
Action Training Academy: Basic Ambulance Assistant Course: Basic Ambulance Assistant Course
Africa Medical: Basic Ambulance Assistant Course: Basic Ambulance Assistant Course
College of Emergency Care- KwaZulu Natal: Basic Ambulance Assistant Course, Ambulance Emergency Assistant, ECT course
Durban University of Technology (DUT): NDip: EMC, BTech: EMC, MTech: EMC
KwaZulu Private Emergency Care Training Academy (KPECTA): Basic Ambulance Assistant Course
Netcare Education: Faculty of Emergency and Critical Care (FECC): Basic Ambulance Assistant Course, Ambulance Emergency Assistant
St. John Ambulance Foundation: Basic Ambulance Assistant Course
Eastern Cape Ambulance Training College (ECATC): Basic Ambulance Assistant Course, Ambulance Emergency Assistant
Mary Grace Ambulance Academy: Basic Ambulance Assistant Course
Queensland Ambulance College: Basic Ambulance Assistant Course
Nelson Mandela Metropolitan University (NMMU): Bachelor of EMC
Ambutek: Basic Ambulance Assistant Course, Ambulance Emergency Assistant
Cape Peninsula University of Technology (CPUT): National Certificate: Emergency Care, National Diploma EMC, BTech: EMC, ECT
Provincial Government of the Western Cape College of Emergency Care: Ambulance Emergency Assistant, CCA, ECT
St John Ambulance Training Centre: Basic Ambulance Assistant Course
Sources: https://www.arrivealive.co.za/Information-on-how-to-become-a-Paramedic
https://www.paramedictrainingspot.com/guide-to-becoming-a-paramedic-in-south-africa/